The feeling like you need to pee is often an uncomfortable one.
The reason for this sensation is that during your dilating practice, you're hitting your G-spot and hence pushing on the bladder that is beside it!
I invite you to empty your bladder just before…
And to explore the G-spot further, in order to transmute the discomfort and yearning into pleasure and satisfaction!
So your typical dilating routine can morph into a beautiful INTERNAL self-pleasure practice!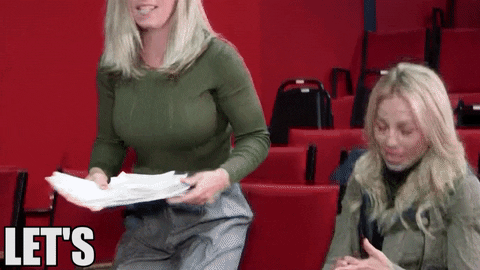 But how do you do that?
Where is the G-spot anyways?
The G-spot is an erogenous area often located 2-3 inches away from the vaginal opening, on the anterior wall of the vagina (wall closest to your belly)…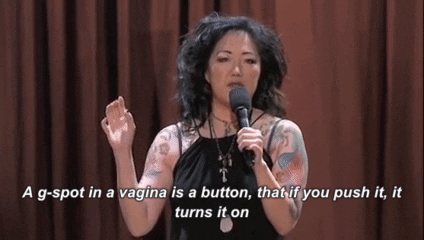 AND that button CAN be found at different locations inside the vagina.
For some people, there is sexual sensitivity where the G-spot is supposed to be. But for others, there's none. Or it's to the left. Or it's in a few places. And it's all okay. It can all feel good.
The point is, you can't standardize a vagina – there is no consistency to where exactly we experience pleasure.
Whichever spot we choose to call the G-spot, it can feel dimpled and soft to the touch.
As it swells during contact or stimulation, it creates an urge to pee and with enough stimulation, that sensation can intensify into a G-spot orgasm!
With enough arousal, you may experience this intense orgasm!
AND you may even squirt! This is called female ejaculation – when you release a fluid that comes from the Skene's gland and travels through the urethra to exit the body.
My first ever G-spot orgasm was an incredible event!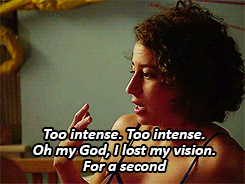 I remember having the simultaneous urge to pee and climax and before I knew it, I had experienced that which I had only read about online.
It was one of the most intense orgasms I've had! And it happened when I used a crystal yoni wand as a tool for pleasure for the first time. I wrote all about it here!
Since my orgasm was of the squirting types, it felt wonderful, but also messy!
Later cleaning the sheets, I made a mental note to invest in a sex blanket like this to contain my wetness and keep my sheets clean!
In either case, stimulating the G-spot is a great way to transmute the uncomfortable feeling of needing to pee into pleasure!
To help your exploration, a slightly curved toy is perfect!
If you'd like to explore your G-spot pleasure potential, you may like a helper like the Lovehoney Slimline G-Spot Glass Dildo.
Glass is definitely ideal for G-spot play due to the added natural weight it puts on all the right spots (without much manual effort)!
Or…
You can also use a bit more of a C-shaped toy that also vibrates, like the Lovehoney Power Play G-Spot Vibrator.
Here's what I have to share about these pleasure partners…
Vibrations
The main factor to consider when choosing a toy that vibrates is which KIND of vibrations it offers.
There's the standard vibrations option, oscillations and air pressure play technologies.
The Lovehoney Power Play has standard vibrations that move from side to side, rather than the in and out movement of oscillations – which are more like tapping or thudding rather than vibrating.
But vibrations also have 2 types – they can be more buzzy (like my dilators were), or rumbly.
The Lovehoney Power Play is moreso rumbly rather than buzzy. And I love that.
Rumbly sensations generally allow for a deeper pleasure and more of a full-body experience, while buzzy sensations that can make you feel tingly and numb.
Vibrations (Modes)
The Lovehoney Power Play has 7 vibration modes (as elegantly demonstrated below in my own language):
1-3. brrrrrr in 3 different speeds
4. brr brr BRRRRRR
5. brr brr brr brr brr brr
6. dz brr dz brrr dz brrr
7. brrrrrRRRRRRRRZZZZZZZZ
I found that even the lowest speed was quite powerful! Definitely enough to create an intense pleasure build up especially when used on the sensitive area of the G-spot!
My favourite mode was number 4.
Size
For insertable toys, size is also very important!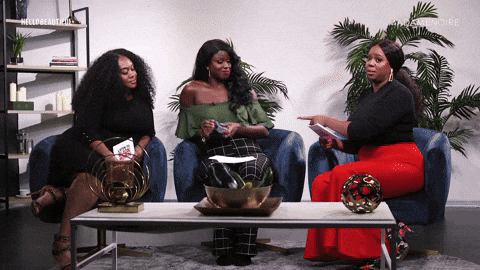 The circumference of the Lovehoney Glass Dildo is 4.5 inches meaning its diameter at the insertable side is 1.43 inches. That's about the size of dilator size 8 of the Intimate Rose set.
Its insertable length is 7 inches.
I also love its slightly pointed (yet still comfortably curved) tip, to help with insertion.
The circumference of the Lovehoney Power Play is 4 inches meaning its diameter at the insertable side is 1.27 inches. That's about the size of dilator size 7 of the Intimate Rose set.
Its insertable length is 5 inches.
Ease of Use
Naturally, the Lovehoney Glass Dildo is super easy to use – no buttons!
The Lovehoney Power Play has 1 single button right near the base of the toy.
Pressing it once, you switch between the 7 vibration modes, and by holding it for a few seconds, you turn it on/off.
I found it really easy to use, especially because the button at the base was conveniently positioned so you can press it with your thumb.
Ease of Cleaning
The Lovehoney Glass Dildo and the Lovehoney Power Play are waterproof, making them easy to clean (and use in the shower or bath if that's your thing!)
Just be careful not to break the glass dildo by accidentally dropping it in the shower! It can get pretty slippery!
Ease of Charging
The Lovehoney Power Play is powered by 2 AAA batteries that came with the vibrator and they slip into its wider base.
Material
The Lovehoney Glass Dildo is made of borosilicate glass that can be cooled or heated for added temperature play kicks.
The Lovehoney Power Play is made of latex-free, phthalate-free silicone.
Aesthetics
The beautiful Lovehoney Glass Dildo comes in clear, non-coloured glass.
The mighty and powerful Lovehoney Power Play comes only in the colour black.
The shapes of both toys allow for an effortless stimulation of the G-spot.
Discreetness
The Lovehoney Glass Dildo is of course, mega discreet. The Lovehoney Power Play is also relatively discreet.
It certainly creates some buzzing sounds though, more so than the most discreet vibrators I've tried thus far, like Kip for example.
Price (in USD)
The Lovehoney Glass Dildo retails for $25.
The Lovehoney Power Play retails for $30, which is among the lower-price point toys.
So…
Have you experienced the feeling of having to pee during your dilating practice? And if you haven't intentionally explored G-spot pleasure yet, will you give it a try?
Please comment below with your thoughts about anything I shared!
AND, I want to congratulate you for committing to your healing journey by doing your research and reading this!
Starting is the hardest step and that means you're well on your path to healing! Celebrate that fact today… How about a relaxing bath?
And if you haven't gotten your hands on my free online course yet, get "Putting Vaginismus In The Past" now.
To your pleasure exploration!
– Katrin, with Love